Matthew John Lee is owner and Auctioneer and Accredited appraiser. Originally from Bath, England, He has worked extensively in his profession in Europe and the U.S. Matthew has over 30 years experience in a wide variety of expertise including Fine Art, Jewelry, Sterling, Coins, Vintage toys & Antiques. His wife, Jacqueline, has previously worked as a museum docent and has extensive experience and noted expertise in antiquities. Both their children work in the auction profession.
"We believe in the personal touch and take pride in our excellent customer service whether you are a consignor or buyer."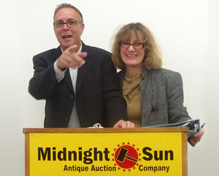 We are located in Los Angeles County, South Bay area in southern California and offer auction and estate sale services of antiques, antiquities, art, jewelry, decor and vintage memorabilia for the general public as well as antique dealers and collectors.
We regularly conduct auctions with State-of-the-Art video streaming of fine quality antiques, antiquities, fine art, jewelry, vintage and collectibles with licensed and bonded auctioneers. We also offer appraisals with Accredited General Appraisers and access to specialty appraisers.
We are always looking for quality consignments!
Subscribe for updates about upcoming auctions